Halloween's just around the corner, so here's a list of things to watch to get you in the trick o' treatin mood.

It's the Great Pumpkin, Charlie Brown
"I've got a rock."

Oh Charlie Brown, nothing ever seems to work out for you. Even going trick-or-treating, it seems that Charlie is doomed. In this holiday-themed special, join the Peanuts gang for laughter and friendship as they prepare for Halloween, all in their own unique way.
The Rocky Horror Picture Show
"I would like, if I may, to take you on a strange journey…"

This delightfully horrible campy film is one of the classics of Halloween. Centered around a newly engaged couple who accidentally stumble into the Annual Transylvanian Convention, "The Rocky Horror Picture Show" will shock you to both tears and laughter. Rent the film but try find a screening of it (it's way more fun live!).
Attack the Block
"We should call the police."
"You'd be better off calling the Ghostbusters love."

In recent years, there has been an influx of alien invasion movies (see: "The Watch," "Transformers," "War of the Worlds," etc.) but none can quite compare to "Attack the Block." One of the most underrated films of the year (in my opinion), "Attack the Block" offers a fresh take on the genre featuring a group of foul-mouthed, wise-cracking teens in South London who take it upon themselves to defend their block from an alien invasion.
Ghostbusters
"Who you gonna call?"

With its special effects, comedic trio (made up of Harold Ramis, Dan Aykroyd and Bill Murray) and a gigantic Marshmallow man, Ghostbusters is like nothing you've ever seen. Nonstop laughter and some eccentric ghosts await you.
Zombieland
"Time to nut up or shut up!"

A Halloween list just isn't complete without one or two (or four) zombie-inspired flicks. In "Zombieland," nerdy "Columbus" (Jesse Eisenberg) swears by his list of rules that are essential for survival. But what happens Columbus meets an insane zombie-killing enthusiast (Woody Harrelson), an attractive con-artist (Emma Stone) and her sister (Abigail Breslin)? Why, hilarity of course, as well as some extremely memorable death scenes that you won't soon forget.
Michael Jackson's Thriller
"Darkness falls across the land…"

At a staggering (for that time) 13 minutes and 43 seconds, Michael Jackson's music video for "Thriller" was a mini film in itself, clearly made by people who loved horror films for people who loved them as well. And since its release in 1983, the music video and Jackson's dance moves have spawned parody videos, songs and even festivals. But try as everyone might, nothing quite compares to the original.
Dr. Horrible's Sing-Along Blog
"The world is a mess and I just need to rule it."

In a way only Joss Whedon can manage, from the first moment to the last, "Dr. Horrible's Sing-Along Blog" will have you cheering for the super-villain (Neil Patrick Harrison) and scoffing the hero (Nathan Fillion). It's a musical, tragicomedy, and drama all rolled into three mini episodes, that will have you looking up the lyrics so you can start singing along by the end.
Are you Afraid of the Dark
"Submitted for the approval of the Midnight Society, I call this story… "

There was nothing more terrifying when I was growing up than "Are You Afraid of the Dark." The intro alone was sufficiently creepy and the actual episodes terrifying enough because of the possibility they could actually be real. A children's version of "The Twilight Zone," each episode was centered around a group of children hanging out in the middle of the woods at night telling ghost stories.
Shaun of the Dead
"It's been a funny sort of day, hasn't it?"

Poor Shaun. His job sucks, his life has no direction, and to top it off his girlfriend just broke up with him. So now he's trying to win her back and get his life back in order, but a recent apocalyptic uprising of zombies might be a small roadblock in his plan.
AMC's The Walking Dead
"The world ended. Didn't you get the memo?"

If you haven't checked out the critically acclaimed series yet, you're certainly missing out. "The Walking Dead" tells the story of a small group of survivors and the problems they face living in in a post zombie-apocalypse world. With plot twists and plenty of scream-worthy moments, it's a fantastic adaption of the popular graphic novel.
Bonus! In case you do truly find yourself in an apocalypse, everything you need: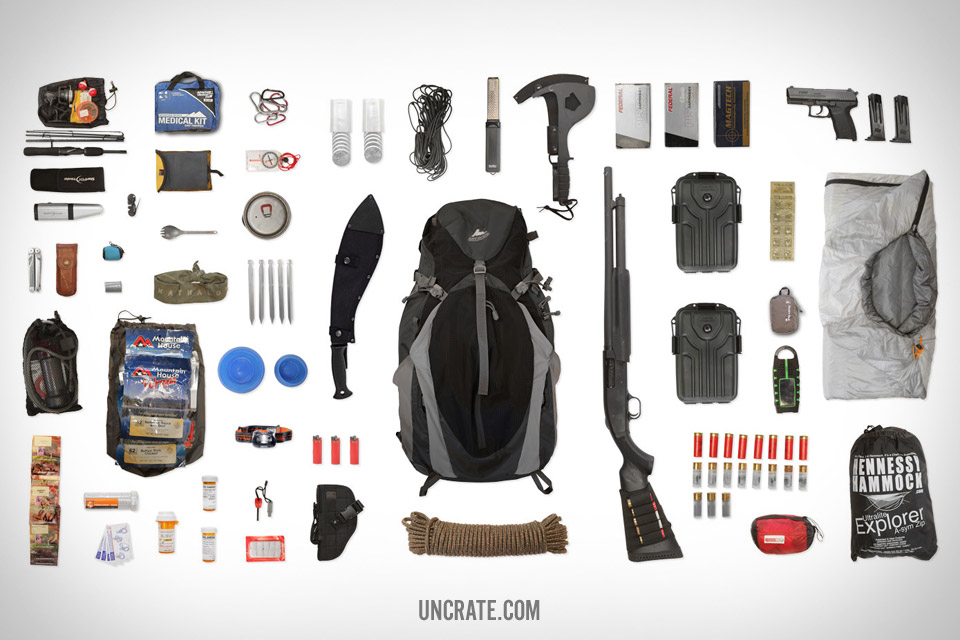 @vanessa_tee!